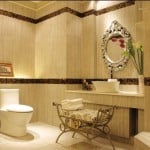 What do people tend to do when they move into their brand new home? Well most tend to look at how what they could do to make the home suit to their tastes and requirements. The flooring is the first thing they change. We understand that. It is because we all do business from it. But which kind of flooring would suit your needs and be cost-effective at the same time?
The Answer then is porcelain. Monalisa tiles to be precise.
The porcelain tiles that we supply to our customers are the very best quality in Sydney and that, too, at the best of prices. Thus, opting for Monalisa porcelain tiles is definitely an intelligent choice. The reasons are here:
Porcelain tiles are extremely robust in nature and often last for many years, no matter the amount of traffic put upon it. Contrary to many other types of tiles, it really is highly water-resistant due to the lack of water in the porcelain.
You are able to put it to use in many ways, restricted only by your imagination. You are able to use inside or out. Plus, you can use it for any kitchen setting.
Porcelain tiles are practically designed for those who do not have much to spend but want their domain to be a great place to come back to. It may be put to several purposes and it is easy to maintain apart from being durable. Also, it has that elegance. What else are you currently thinking?
Monalisa tiles prides themselves in providing customers with great price and excellent quality.
We too at Tile Factory Outlet specializes in Monalisa tiles. TFO has as a great range of quality porcelain tiles, specifically Monalisa tiles at amazingly low prices. Visit us in our Sydney showroom or compare and buy tiles from their online store.