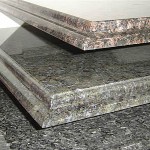 They say old is gold. Not too certain about the metaphor but granite is sure well worth its weight in gold when you examine all the advantages it has to provide over its other, less expensive counterparts. It comes with a warranty approved by mother nature. Additionally it is the most effective buy tile companies have to offer – it is not custom-made to your option.
Granite is densest and hardest natural stone on the planet because its born out of volcanoes. Granite is given its lovely shape by immense pressure as well as heat. Dark colors like black, some shades of grey as well as pink are some of the colors granite boasts of, making it valuable in a number of situations. Probably that's why people commenced using it to build things in the olden days and keep on the custom even till these days.
Utilizing granite tiles has some benefits and below are a few:
• It's Super-rock! It doesn't wear away and is scratch-proof and safe from nature's elements.
• Hard – it's the right choice for areas with a heavy footfall due to its firmness.
• Beautiful – Because of the fact that it's an all-natural rock, the patterns on each tile is one of a kind.
Adding to the above are factors that it isn't going to fade too quickly and it is fairly friendly maintenance-wise. Using it can be a huge cost saver if you are not one of those individuals who like changing tiles every few years or so. Granite is the most durable material there's in the market. You never know, these tiles could even live longer than your grand kids without repair.
Tile Factory Outlet has a great range of quality granite tiles at amazingly low prices. Visit them in their Sydney showroom or compare and buy tiles from their online store.